We utilize the most current technology in our industry. Our state-of-the-art equipment allows us to provide our clients with high-quality products on time and on budget.
We realize that most people could care less about what model of press or copy machine we use, so long as they receive what they ordered. Still, we can't help being proud of our toys. Once you see how great they make you look, we hope you'll be proud of them, too.
In August 2010, we purchased a new piece of equipment that we are super excited about! The Konica Minolta 6500, a digital printing press. It has state-of-the-art color imaging and prints on various sizes, from 13"x19" down to 8.5"x11". It can print on lightweight paper to heavy card stock and even has a built in book maker! And to top it all off, it is extremely FAST. We'll have your order done before you even place it! Okay... it's not that fast, but you get what we mean.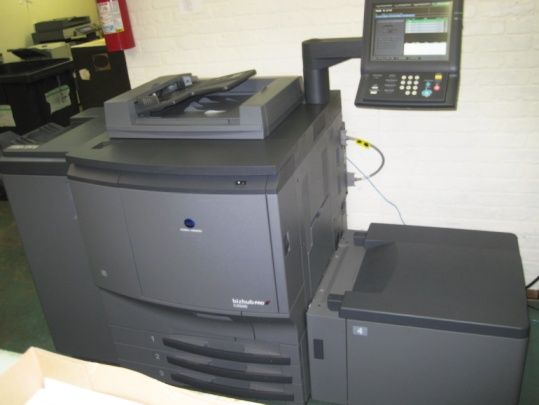 Prepress and Applications
Apple MacIntosh G5/OSX

The Apple Power Macintosh G5/2.0 DP, along with the Power Macintosh G5/1.6 and Power Macintosh G5 1.8, is a member of the first Mac series to use the 64-bit PowerPC 970 (G5) processor, and are arguably the first "desktop" computers to use 64-bit processors.

ApplicationsThe most up-to-date versions of prepress applications including Adobe Creative Suite 2 - InDesign, Photoshop 9, Illustrator 12, Acrobat Professional, Pit Stop Professional, and QuarkXPress 6.5.

HP5000GNHP LaserJet 5000GN printer incorporates the most innovative new technologies, establishing new standards for paper handling, speed, print quality, and network printer management.

Print Shop Mail SoftwarePrint Shop Mail is a powerful, variable data software program. It is capable of creating a multitude of beautiful personalized documents and performing advanced functions such as page picking.
What kinds of documents can be created with PrintShop Mail?
• Mail Merge Letters
• Labels
• Gift Certificates
• Magazines
• Newsletters
• Marketing Mailers
• ID Cards
• Preprinted Reply Cards
• Training Manuals
• Personalized Brochures
• Numbered Tickets,
• Personalized Certificates
• Business Cards
• Catalogs
• and Much more!
Copy Center
KONICA MINOLTA bizhub PRO 1050eWith a maximum monthly duty cycle of 1.5 million impressions and a print engine containing sturdy metal component parts for reliability, the KONICA MINOLTA bizhub PRO 1050e printer/copier/scanner delivers powerful performance from a powerhouse in Digital Production Printing

KONICA MINOLTA bizhub PRO C6500Versatile image controller options, flexible inline finishing capabilities, 200-page trimmed booklet-making, six folding options, 5,000-sheet output stacker — the bizhub PRO C6500 has them all, plus powerful networking software for managing jobs, print queues, documents and devices. With smaller footprint and longer unattended operation, it can reduce labor costs, increase profit and productivity, power up your workflow and keep the most demanding corporate and commercial clients coming back for more.
Printing
A.B. Dick 9810 One ColorA.B. Dick presses have built a reputation over the years for delivering innovative and dynamic offset presses to quick print and small to mid-sized printers. The 9810 has the capability to handle sheet sizes ranging from 3" x 5" up to 12" x 18" producing up to 7,000 impressions per hour.

A.B. Dick 9850 Two ColorA more updated version of our 9810 Model, the 9850 prints two colors from a single pass.This press has the capability of printing 10,000 impressions per hour.

Booklet Pro 7500The fully automated booklet-pro 7500 bookletmaker staples and folds up to an impressive 20 sheets (80 pages) at a time.

Miehle V-50 Vertical LetterpressThis is an oldie but a goody used for numbering and perforating tasks.

Xanté Ilumina Digital Color PressOur Xanté Ilumina Digital Color Press handles a wide range of paper weights from 64 g/mÇ to 427 g/mÇ. The Ilumina runs all types of jobs from premium 4-color business cards, postcards, direct mail pieces, brochures, to in-store signage.
Finishing
Baum 14x20 FolderThe Baum 2020 Model paper folder is undoubtedly the best folding machine ever built in America. This device will handle sheet sizes up to 18" x 20". It will produce three folds at 8200 sheets per hour.

Challenge MS10A Multi Head Heavy Duty Drill.

Clamco Tunnel WrapThis device will wrap packages ranging from 3" x 5" up to 11" x 17" while accomodating as many as 500 sheets per package.

Seybold Citizen 48" CutterThe Seybold is a workhorse programmable cutter capable of handling 55" stock. Lift capacity of 1,000 sheets text.